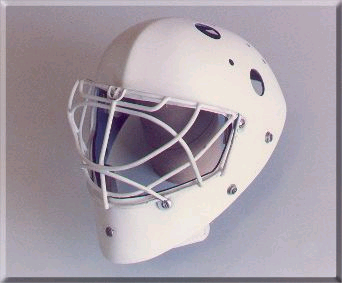 Composite goalie mask for hockey 1985
We have done R & D for a number of OEM's in the bicycle, experimental aircraft, marine, and hazardous materials handling industries.

Our expertise is in the use of advanced composites to replace traditional metallic structures. In particular, dynamically loaded structures for the sporting goods industry, and propellors and rotor blade's for the ultralight aircraft industry. Dynamic Composites Inc. has provided lighter, stronger and longer lasting parts for the bicycle industry since 1984 when we made the "Disk Wheels" for Canada's Olympic Track Cycling program. Other research and development has included complete mountain bike framesets and manufacturing methods, as well as turnkey, composite crank arms, composite handlebars, etc.
Racecar setup and repair.

Pivotless suspension mountain bike frame.


Mountain bike frameset development.



Wheel testing apparatus.
Built by U.N.L.V. 1997.
Tests cyclic fatigue of wheel using a 1" cam and 200 pounds of axle load. Developed for testing of Dynamic's patented spoke/hub system and rim section.

The worlds first composite mountain bike frame (we believe!)

Carbon moulded front

triangle. Steel rear triangle.


Exoskeleton, carbon interior crankarms. Performed six
months of research and development on this project.
Increased strength, and fatigue
life and decreased weight
by over 100g.

Bicycle frame.
We can take your original concept or finished part and work with you to develop a better piece with composites to:
1. Increase fatigue life
2. Decrease weight
3. Increase strength
All three are possible!
Prices for Consulting Services
Minimum commitment: 40 hours
Initial consultation fee and plan setup $1000.00 US
Service fees $75 per hour
For further information, please contact us at (780)708-5754 or


All Rights Reserved © Copyright 2000-2019